Annual Partners in Crisis Event 2022
Friday, December 2, 2022 from 9:00 AM to 11:00 AM
Event Information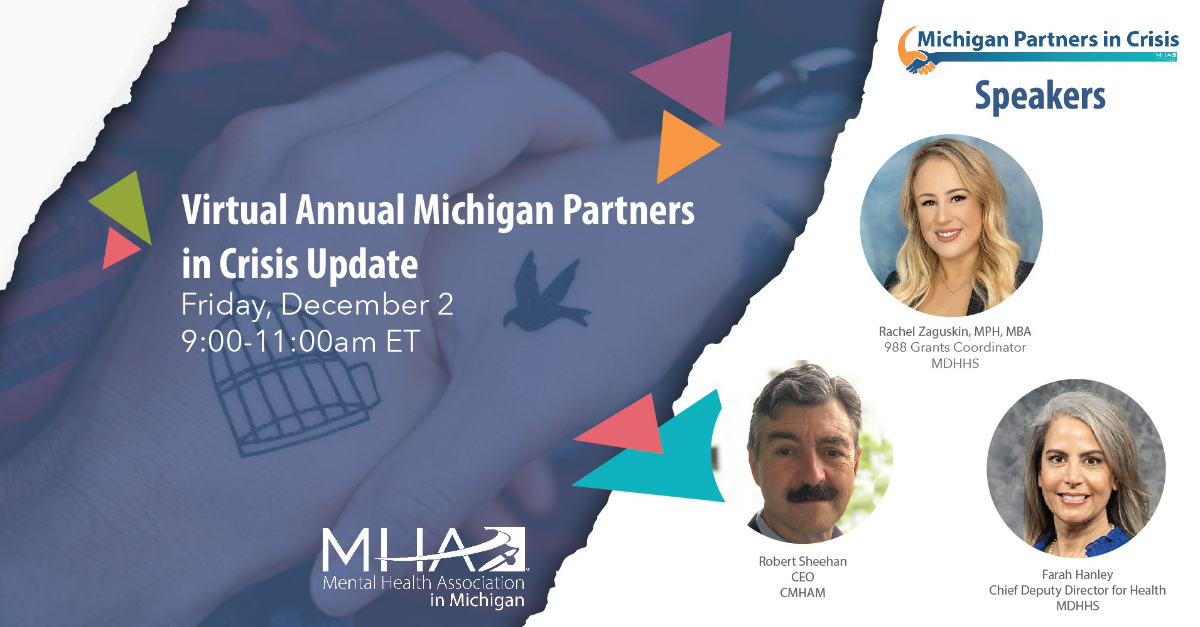 Michigan Partners in Crisis is a coalition of organizations and jurists dedicated to enhancing access to quality, clinically appropriate treatment and support services and settings for children and adults experiencing emotional disorders and mental illnesses. The Partners in Crisis coalition focuses on more than mental health issues.
This new coalition seeks mechanisms that reduce the over-reliance on the criminal justice system as a response to mental illness and emotional disorders, while preserving the well-being and safety of consumers, families and the general public.
 
Virtual Event Schedule
9:00am     Welcome
9:10am     Current Opportunities for and Threats to Michigan's Public Mental Health System
                 Robert Sheehan
                 Community Mental Health Association of Michigan 
                 Description: Within the state of Michigan and across the country, mental health issues are at the top of the agendas of citizens, the media, and policy makers. This presentation will provide the latest information on the major opportunities for and threats to Michigan's public mental health system. This presentation is intended to be a dialogue involving the participants – so dialogue and questions are encouraged.
9:30am     988 in Michigan: A Transformative Movement for the Crisis Care System
                 Rachel Zaguskin, MPH, MBA
                 Michigan Department of Health and Human Services
                 Description: Rachel Zaguskin will provide an update on current 988 implementation efforts in Michigan. Attendees will also learn about Michigan 988 updates, ongoing 988 processes, and continued opportunities to help shape the system.
10:00am    Break
10:05am    MDHHS Initiatives Update
                  Farah Hanley
                  Michigan Department of Health and Human Services     
                  Description: An update will be given on current department priorities, challenges and opportunities as well as what's to come in 2023.
    
10:35am    Q&A
11:00am    Dismissal
Registration Pricing:
Complimentary
 
Presenters:
Robert Sheehan
Chief Executive Officer
Community Mental Health Association of Michigan 
Rachel Zaguskin, MPH, MBA
SAMHSA Grant Coordinator
Michigan Department of Health and Human Services
Farah Hanley
Chief Deputy Director for Health
Michigan Department of Health and Human Services
Facilitator:
Patricia Streeter, JD
PIC Facilitator & Advisory Board Co-Chair
MHAM